Sabrina was proud of her prestigious management consulting position in one of the Big Four agencies. "Being a consultant and working for the 'Big Four' was my identity. It was who I was… So, when my work wasn't going well, I wasn't doing well either because my job was my identity."
It's hard not to blur the line of self-identity to our careers, especially when so many consultants work an average of 50-60+ hours per week. However, for Sabrina and countless others, this boundary, or lack thereof, between work and personal fulfillment has become more apparent since the pandemic. This has catalyzed an unprecedented movement in the workforce, now coined The Great Resignation.
What is The Great Resignation?
Resignation rates are reaching unprecedented numbers. Like Sabrina, a record 4.3 million workers (almost 3% of the US workforce) quit their jobs in August 2021 alone, according to a new report from the US Bureau of Labor Statistics.
This exit is occurring even in big consulting firms. According to a report from Bloomberg.com, "nearly 2-in-3 consulting firms say they're short-staffed, and 1-in-5 are turning down work as a result."
So what's going on?
The Pandemic Changed What We Value
The pandemic has shaken the entire workforce – not just consultants. It freed many people from conventional values and expectations of what they want from their work and lives. Many are challenging the traditional goals of materialistic pursuit to spend more time with families, get more involved in their community, be in nature more, focus on mental health, personal growth and well-being, and generally improve their quality and experience of life.
From what we're hearing from change consultants specifically, two main values seem to be driving the exodus from the large, traditionally rooted and conventionally minded consulting firms. The first is the desire to make a bigger social impact through work, and the other is the desire to support personal transformation in themselves and their clients. This is occurring especially in consultants who specialize in leadership development and organizational change.
Many of these consultants have been exposed to or are teaching "executive mindfulness." Many have over the years turned toward self-development and healthy lifestyle practices like yoga, meditation, stress management, conscious breathing, and eating organically. And, all this time, they have yearned for a greater work-life balance. The pandemic gave them an opening to head in that direction.
These more "conscious" consultants want more "depth" in their lives. They pursue greater introspection into who they are, seek deeper, more authentic relationships with others, and they want their work to have a greater social impact. Many are turning toward solving big, meaningful social and environmental challenges. They simply want more in their lives, while making a bigger, more meaningful impact on life.
These consultants see the value of bringing high-quality transformational work into their professional careers. And, even though traditional, conventional consulting firms now throw around "transformation" as a buzzword, they don't really know how to apply it or what it entails. They lack depth in their approaches and settle for veneer applications that are safe and acceptable to their conventional corporate clients. These firms talk "about" transformation, but don't fully embody it.
These traditional firms don't yet see or understand how the work of transformation requires a deeper, more comprehensive approach. It requires risking the dive headfirst into personal change. It demands challenging leadership mindsets and cultural norms. Conscious consultants understand this because they have been living it. But they've been like fish out of water in their conventional firms. And since those work environments don't enable these conscious consultants to do the transformational work they feel compelled to do, they are leaving in droves. They are looking for new, more evolved playing fields.
Advice for Consultants Who've Outgrown the Big Four
"There's a rapidly growing number of high-powered change and organization consultants who feel confined by the constraints, politics and limited scopes of work prevalent in traditional consulting firms," says Dr. Dean Anderson, co-founder of Being First and the Center for Achieving Breakthrough. "I've had more senior consultants reach out to me in this last year than ever before. They want to know how they can use their expertise and passion for transformation to have a greater personal and social impact in what they do."
Dr. Anderson advises these consultants to conduct an internal inventory and identify the breakthroughs they're after. Where do YOU want radical improvement – transformation – in your life?
There are three areas you can evaluate:
Personal Breakthroughs in yourself and your relationships

Change Leadership Breakthroughs: what you consult to and how

Breakthroughs you want to see in organizations and communities




Discover Your Breakthroughs and Find What's Next
To identify the breakthroughs you want to pursue, download the Identify the Breakthroughs You Are After worksheet. It guides you to explore your aspirations around personal, change leadership consulting, and broader organization or community breakthroughs.
After you have identified your breakthroughs, start looking for the organization(s) that will provide an opportunity for you to achieve them. This commitment to yourself will guide you through The Great Resignation, making this a time of empowerment for you.
This is your opportunity to align your life purpose, desire for increased social impact, and professional growth into one cohesive plan.
---
RELATED WEBINAR:
How Consultants Can Use the Great Resignation to Align their Life Purpose and Social Impact
Dr. Dean Anderson explores how to use "The Great Resignation" as a time of empowerment and opportunity to align your life purpose, desire for increased social impact, and professional growth into one cohesive plan.
---
FEATURED EBOOK:
The Ten Key Strategies for Leading Transformation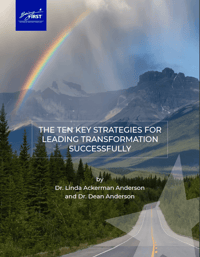 Through 40 years of observing and supporting large-scale change and transformation in Fortune 500, government, global NGOs and public service organizations, we've identified these ten Best Practice strategies for leading transformation successfully.
Please complete the form to download your eBook:
---