Imagine a ship setting sail without a captain, left to the whims of wind and tide. Similarly, a transformational change initiative without a dedicated and engaged sponsor is adrift in dangerous waters. We've all witnessed the familiar scenario – a change initiative is announced with grandeur, only to be relegated to a project team with little authority shortly after.
In this blog, we delve into the downsides of the "Bless and Delegate" sponsor, explore why they can spell doom for transformation and provide an alternative approach with key sponsor actions that drive successful change.
The Phantom Sponsor: A Harbinger of Failure
The "Bless and Delegate" sponsor epitomizes a hit-and-run approach to change leadership. They unfurl the change flag and swiftly vanish from the scene, leaving a trail of unresolved challenges. Their priorities seem limited to deadlines and budgets, paying scant attention to the intricate human dimensions of transformation or any need to alter course. The aftermath? A landscape dotted with a frustrated project team, political fallout and unmet expectations. The change initiative lumbers forward without strategic guidance, resulting in fragmentation and costly re-do's.
Crafting the Possibility of Effective Change Sponsorship
If you step away from this prevalent pattern, know that transformational sponsorship is very possible. Imagine a sponsor who steps into the spotlight with dedication, accountability and respect for those whose lives they are impacting… a sponsor who perceives the change as a journey, not just a quantitative destination. Their blueprint encompasses both required organizational changes as well as a profound understanding of attention to the inevitable human dynamics. This sponsor is more than an announcer; they're a guide and a model, illuminating the path to a successful transformation.
The art of transformational sponsorship is composed of several key approaches:
Setting the Course: Envisioning clear desired outcomes, aligning them with overarching business strategies and communicating a comprehensive roadmap.

Capturing Hearts and Minds: Breathing life into the vision of the change through a compelling and relevant purpose and outcome statement, consistent actions, advocating for its significance and demonstrating concern for its impact.

Executive Backbone: Garnering commitment and support from the top echelons, making required course corrections when difficulties arise and fostering seamless cooperation with the ongoing operation.

Leading by Example: Personifying the change by modeling desired behaviors and new cultural norms, catalyzing a positive ripple effect across the organization.

Fueling the Change Engine: Allocating resources thoughtfully, adapting them as required, and fostering the organization's change leadership competency.

Carving Out Capacity: Juggling priorities to free up required time and setting a rhythm and pace that balances change initiatives with day-to-day operations.

Navigating with Courage: Keeping a vigilant eye on progress, embracing course corrections and holding leaders accountable for their contribution.

Continuous Engagement: Keeping stakeholders informed, dismantling barriers and actively participating in critical change milestones.
The Journey Forward: Elevating Sponsorship
In this unfolding narrative of change leadership, there's a common thread - sponsors are not solely born but developed. As you reflect on your own sponsorship or your relationship with your sponsor, opportunities for improvement will hopefully emerge. Consider…
Supporting leadership awareness of the need for good sponsorship by generating meaningful data about the cost of poor sponsorship in past change efforts, including both successes and pitfalls.
Engaging executives in dialogue that kindles awareness of the need and the power of a steadfast commitment to better change leadership.
Introduce your sponsors to Conscious Change Leadership, arming them with strategies that echo the art of transformation.
Uplevel Your Track Record in Change by Unleashing the Power of Transformational Sponsorship
Successful transformation requires not just a sponsor in name only but a transformational leader, someone who doesn't just announce the change but champions and embodies it.
To explore how to rescue a transformation from its predictable challenges and nurture an environment of effective sponsorship, tune into our latest "Ask Dr. Change" podcast episode with Dr. Linda Ackerman Anderson. Linda discusses the importance of senior leaders recognizing and committing to becoming influential project sponsors who proactively lead. Plus, she lets you know how to get a sponsor's attention and the ten critical responsibilities of an engaged sponsor of transformational change.
Hear how to conquer the "Bless and Delegate" paradigm and harness the power of transformational leadership in the episode: "Sponsoring Transformation: The Leader's Job"
---
Related Webinar:
Sponsor-Project Lead Partnership Best Practices Proven to Maximize Transformation Results
Instructor: Dr. Linda Ackerman Anderson
This webinar explores a four-step process for creating an effective sponsor-project lead partnership and the proven principles that drive it. You'll get our best practices and tips for building a sponsor-project lead partnership derived from our 40+ years as experts in leading transformation.
---
Featured eBook:
The Ten Key Strategies for Leading Transformation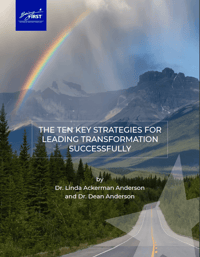 Through 40 years of observing and supporting large-scale change and transformation in Fortune 500, government, global NGOs and public service organizations, we've identified these ten Best Practice strategies for leading transformation successfully.
Please complete the form to download your eBook:
---