Top Five Best Practices of an Executive Sponsor of Change and Transformation
After observing and working with senior sponsors of organizational change for four decades, we have seen the best and the worst. Are you a good sponsor? Are you doing what your change efforts need to be successful and sustainable over time?
Many leaders are named sponsor of an initiative without understanding what the role requires, especially if their projects are large, transformational, or challenging for their stakeholders. Our observations have identified the top five best practices of effective sponsorship that has the potential of producing breakthrough results from change. This blog outlines them, and explores the consequences of not fulfilling these key sponsor responsibilities. Here is an introduction to the list.
The Top Five Best Practices for Change Sponsorship
Change Sponsor Is More than a Title
Being an effective change sponsor is more than giving the green light and waiting for periodic status reports. A great executive sponsor is a commitment to understand and do what your effort requires to achieve and sustain business benefits. It takes more than naming a good project leader and team players to do the work of the initiative. Set an example by staying connected to your team and your stakeholders, getting involved where senior leadership intelligence is required, and staying visibly invested from start to successful completion. Only then will you get your breakthrough results as well as the loyalty and esteem that belong to a conscious change sponsor.
---
---
Related Webinar:
Sponsor-Project Lead Partnership Best Practices Proven to Maximize Transformation Results
Instructor: Dr. Linda Ackerman Anderson
This webinar explores a four-step process for creating an effective sponsor-project lead partnership and the proven principles that drive it. You'll get our best practices and tips for building a sponsor-project lead partnership derived from our 40+ years as experts in leading transformation.
---
Featured eBook:
The Ten Key Strategies for Leading Transformation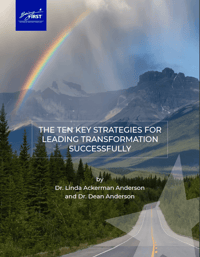 Through 40 years of observing and supporting large-scale change and transformation in Fortune 500, government, global NGOs and public service organizations, we've identified these ten Best Practice strategies for leading transformation successfully.
Please complete the form to download your eBook:
---