How to Tell if You Have an Ineffective Project Launch Strategy
Launching your change initiatives effectively is critical to ensure your highest probability of success. Effective launch minimizes the inertia and rework that saddles many change initiatives. If you answer yes to any of the following questions, you may have an absence of the kind of good change leadership that generates a sound launch of your change initiatives.
Do your change initiatives suffer from confusion about roles and decision authority?
Do various change initiatives compete for sponsor attention or with other projects also afloat in the organization?
Do your change initiative team members struggle with not having adequate capacity or skill to fulfill their roles?
Do your change initiatives experience "fits and starts" and fail to get momentum due to a lack of leader alignment or a solid change plan?
Do your change initiative team members do a lot of make-work that gets no traction?
Do your change initiatives face stakeholder resistance or confusion because of a lack of meaningful communications or engagement?
Are your change initiatives impaired by emotional residue from recent negative change experiences that have gone un-addressed in stakeholders?
Launching Your Change Initiative Takes Forethought
Launch strategy should begin as soon as leaders give the "green light" to proceed with a change initiative and before any analysis of the issues begins. Contrary to popular thinking, launch is much more than the initial kick-off announcement that a change initiative is going to happen, and more than naming a change initiative team of content experts tasked with finding a solution to deploy into the organization.
A Solid Launch Strategy Puts Your Change Initiative on the Right Footing
To get "lift-off" on your change initiative and avoid repeating typical start-up challenges, you must create an effective launch strategy and plan. Your launch strategy is designed to:
Develop common understanding and alignment among your leaders, managers, and stakeholders. Help them see the need and opportunity your change initiative is meant to capture, and what you hope to accomplish for your organization. This requires more than one-way communication; it is a process of engaging and interacting with each of your various audiences, each of whom will require a different plan.
Create buy-in by your stakeholders. Help them see the relevance of the work to them personally. Again, this takes more than communicating by what we fondly call "death by PowerPoint." It takes focused two-way interaction. (By the way, to get this right, ask your middle managers and stakeholders what would work for them to get them in the boat. Don't assume you know, or that telling them is adequate; it isn't.)
Build a "fertile environment" for the change and/or transformation to occur. If your change initiative follows on the heels of projects that did not go well or were seriously resisted by your stakeholders, you will need to plan how to get your resistors or skeptics minimally back to neutral. You might need to enable constructive venting or have your leaders tell the truth of their own experiences with past difficult changes. Ideally, this strategy is intended to create a sense of possibility, hope, and momentum. It needs to be designed to build relationship and trust between your leaders and your stakeholders. Doing this will take you far.
Create initial change initiative governance, infrastructures, and support mechanisms so the change initiative work has a strong footing to operate smoothly from the start. Beyond naming a project manager and team, this strategy requires careful consideration of all the change leadership roles needed for the effort to get off the ground, and be staffed with the right people who have the skills and capacity to fulfill them. Roles, decision-making authority, meeting cadence, conditions for success, and creating the resources and support infrastructures for all involved is required.
Start developing key leaders to model the changes they are asking of the organization, and to play their change leadership roles most effectively. If your leaders have not played their sponsorship or change leadership roles well on past changes, your launch strategy must strengthen their understanding and capabilities to provide better change leadership. This might take the form of training, coaching, or live consulting as the change initiative gets started. It is essential that the leaders commit to being models of the new cultural norms and behaviors, so the change initiative has credibility in the eyes of your stakeholders.
Who Builds Your Change Initiative Launch Strategy?
Often, sponsors will hand off launch to the change initiative's project manager, who does not understand or value this upfront work. They instead jump right into assessment and solution development. In some cases, the sponsor gives the launch of the change initiative to a change consultant, who does not have the political pull to get this work to happen beyond putting a plan on paper.
For effective launch to happen, the sponsor, change process leader, change leadership team, and change consultants must work together. This should be a collaborative effort, as each has critical perspectives on what is needed to make launch successful. The Executive Team (or highest operational leadership team) may also be involved in this work, if they are the ones who have approved the change initiative and have not yet handed it off to a sponsor or change leadership team. Project managers may also be involved, to the degree they can add value to these upfront decisions.
The Mindset Shift Required for Change Initiatives to Have an Effective Launch
The single greatest deterrent to effective change initiative launch is the mental orientation to speed. Everyone, from the sponsor down, wants to go fast, but the key to the fastest path to full adoption and sustainment of a change initiative, and the full realization of its intended ROI, is to "go slow to go fast." This means taking the time to set up your change initiatives for success right from the start, and this begins with launch.
If you neglect launch, you'll pay the price in lack of speed and cost overruns due to re-work, stakeholder resistance, and the typical "one step forward, two steps back" that plagues most change initiatives. But if you pay attention to launch and do it well, you'll reap the rewards of speed, adoption, sustainment, and positive change readiness for you next change initiative.
---
Related eBook:
The Ten Key Strategies for Leading Transformation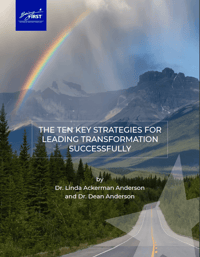 Through 40 years of observing and supporting large-scale change and transformation in Fortune 500, government, global NGOs and public service organizations, we've identified these ten Best Practice strategies for leading transformation successfully.
Please complete the form to download your eBook:
Related Webinar:
The Upstream Stage of Leading Change: Project Launch Webinar
This webinar explores a standard of excellence for the Upstream Stage of leading organizational change that launches projects with the key deliverables essential to their success.
---