Major change triggers people into a range of challenging emotional reactions. There are many approaches and tools to support people in making the emotional shift out of resistance to committing to making an organizational change. One vital tool is the two-way, face-to-face conversation, either with an individual if the issue only pertains to them, or in a team or larger group setting if the upset is pervasive. How you facilitate such conversations and meetings can make or break your change efforts. The first step is up to you.
From Resistance to Commitment
The emotional shift from resistance to neutral is the birthplace of commitment. It is truly an inner dynamic. You cannot force it from the outside, but you can support it. First, by being in real, authentic relationship with the person or people who are resisting. Second, by bringing your highest self to the interaction; the self that does not judge or make others wrong. Your way of being holds the space for their egos' resistance and, by doing so, exerts a transformational influence. When a person complains, disagrees, or vents into such an unconditional, accepting space, there are no boundaries there for their resistance to hit and trigger more conflict, attack, or manipulation. There is no fight to be had, so their resistance, once heard and acknowledged, dissipates naturally. A level of openness emerges, and the inquiry into the value of the transformation takes on a very different tone. If the direction and content of the transformation have merit, they will now perceive it, and their commitment will grow by itself – not because of what you did, but because of the "presence" you brought to them. When you put your Being First, breakthrough can happen.
Consider these guidelines for having this type of conversation or effective meeting with people who are resisting your changes.

Guidelines for Facilitating Effective Meetings
Here are some guidelines that will help you facilitate challenging conversations with resistors. They are not intended to be in any order.
Openly create a positive

context

for

the conversation

when you

invite people into it

.

S

et up the process

for the meeting at the start

.
Make sure the participants know that this is not a "usual" business meeting of a one-way tell, sell, or contrived question-and-answer session.

Make overt the expectation that you want to hear the full

breadth

of what they think and feel.

Make it clear that no matter what is said, there will be no recrimination or retribution.

Tell them that you will repeat back to them what is said to ensure you understand it correctly

(then do this)

.

If you do not have the information to respond to their questions, l

et them know when you will get back to them and how, and that you will

take appropriate

action based on what you

find out

.
Hold the space for their resistance and call it forth by making space in yourself.
As people "vent" their feelings, strive to r

emain conscious of

your reactions to them--

what occurs in your own mind, body, and emotions.

Remain as centered

and

aware

as you can

, and operat

e

from your

highest self

as

much as possible

; be observant of your own ego reacting negatively to their resistance. If you react and get upset, you will only make matters worse. There is no place for defensiveness or aggressiveness in this process.

Just listen!

Accept them, and do not make them wrong for their thoughts and feelings. Their reactions are valid and real for them. Do not judge them.

Let them know they are safe to share their true feelings with you.

Do not try to convince,

manipulate, or subtly coerce them into perceiving things differently. Just let them be where they are.



Open a two-way dialogue.
Begin by stating your observations that you see that people are concerned and that you want to hear their concerns first-hand. Then ask them about their general concerns about the change, using questions such as the following:
How are you doing

in light of

what's going on

?

How is this change impacting you and others? What concerns, issues, or questions do you have?

How do you think this change will benefit or cause problems for our organization? (

L

et them challenge the content

.

)
Ask questions that might surface their deeper concerns.
Simply inquire from the perspective of trying to understand them and their core needs. If you are convening a very large group, you might want to first ask these "deeper" questions in smaller groups so participants feel emotionally safer. This will also give more people an opportunity to speak and help them have the courage to bring their concerns to a larger group dialogue.
What concerns do you have that things won't work out in the end, or that your personal job security is threatened?

What concerns do you have about being included or having a part to play on the team

as a result of

this change? About potentially losing the relationships you have valued in your work?

What concerns do you have about losing power and influence over the work we do

as a result of

the change?

What concerns do you have that our plan going forward is not clear, structured

,

or organized enough?

What concerns do you have about your ability

to perform and succeed in the new state?

What concerns do you have that you or others may be hurt by the change or that decisions will not be fair?

Which of these concerns are the most important to you during this change?




Be sure to reflect back to them what you hear them say in their answers. Use active listening to ensure they are heard and that you interpret what they say accurately.
Provide information about the change, but do not attempt to convince them your perspective is right and theirs is wrong.
Stay in neutral and discuss the following:
Review and discuss the

case for change

,

t

he desired outcomes, and the current timeframe for the change.

Talk about what is not changing to provide reassurance that not everything is falling into "chaos

.

"

Emphasize the strengths they bring that will help them succeed.

Discuss scenarios and possibilities you see for the future.

Ask them to identify any potential benefits they see for themselves

as a result

of

the change. Share the benefits you anticipate for yourself and the team.

Let them know where there are opportunities to become involved and participate.

Acknowledge what you don't know and when those things are likely to be worked out and clarified.

Explain how you will inform them on updates and new developments. Schedule specific times for this.



Ask them what they can support about the change right now, and what they need to become fully engaged and committed.
Do not promise anything except what you know you can deliver. Make a request for a time-bound grace period, where they consider the possibility for the change, its overall value for the organization, and how they might support it.
Request that:
They do not promote

or spread

resistance

to

others during this time.

They think about the change with fresh eyes.

They consider all their options, including finding how to support the change, or finding a new role in the organization or elsewhere.

Make sure you explain this in a neutral

way

so they do not feel threatened.





---
Related eBook:
The Ten Key Strategies for Leading Transformation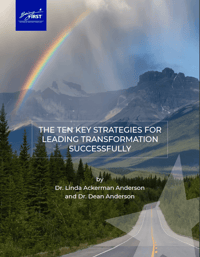 Through 40 years of observing and supporting large-scale change and transformation in Fortune 500, government, global NGOs and public service organizations, we've identified these ten Best Practice strategies for leading transformation successfully.
Please complete the form to download your eBook:
---