"A well-designed organization ensures that the form of the organization matches its purpose or strategy, meets the challenges posed by business realities and significantly increases the likelihood that the collective efforts of people will be successful." —Dr. Roger K. Allen
Organizational design is identifying the required functions and processes in your organization, and organizing them to optimally serve customers and win in the market. Good organization design ensures that these parts function together as an effective and efficient whole by clarifying governance, roles, and responsibilities, distributing decision-making appropriately, and leveraging inter-dependencies across functions, processes and roles. Organizational design is meant to ensure that the organization's structure is aligned with its mission, and entails a thorough examination of the complex relationship between tasks, workflow, responsibility and authority, and making sure these all support the objectives of the business.
A key component of the best organizational design is ensuring it reflects and supports the desired culture, and promotes the way of being, working and relating in people that will optimize performance and results.
What Organizational Design Guarantees
Good organizational design ensures an environment that supports leaders and employees to work effectively together to deliver:
Excellent customer service
Increased profitability
Lower operating costs
Improved efficiency and cycle time
A positive, co-creative culture of excellence
Innovation and growth
Culture—A Critical Component of Organizational Design
Organizational design sets the leadership structure of a company, establishing reporting relationships and lines of authority reaching from the executive level to the front line.
A clear map of authority allows team members to operate efficiently, without any confusion and doubt over their roles, and also eliminates overburdening team members with too much responsibility at a level they aren't ready for. Good organizational design ensures optimal spans and layers of authority, and helps manage the workload capacity of people, functions and the organization.
In his article, "Effective Leaders Do Not Delegate Organization Design Decisions," Guillaume Hervé states that "The leader's role in organization design is to strike the right balance between each element of an organization design. He/she must follow the organization design process carefully to arrive at the most effective structure to achieve business objectives. A structure must be derived from a company's strategy and then designed to support it."
We agree, but there is more to optimal organizational design. It should also reinforce the desired culture, and mindset and behavior in both leaders and employees. Often, organization design is treated very mechanistically, with a dominant focus on "re-arranging the boxes" of who reports to whom. This occurs when leaders see their organization as a machine rather than a living system of people. A more effective worldview is to think of your organization as a human system that has a body (structure), as well as a heart (culture) and mind (knowledge). Together, these establish your organization's core capabilities. From this perspective, culture, mindset and behavior can hardly be left out of the organization design process.
Organizational Design—Not One Size Fits All
Organizational design must be cultivated according to each individual company. As long as it's aligned with purpose, vision, mission and strategy, drives the desired culture, way of being, working and relating in people, those who fill roles are chosen carefully, and it supports optimal systems, processes and technology, it doesn't matter what organizational form is used. We tend to think of organization design as various forms of hierarchy, but network structures that are far flatter and more flexible are also viable options. How to know what is best for your organization?
MindTools offers 5 things to consider when thinking about the structure of your organization:
Strategy
If your organization needs to be highly innovative, then a rigid hierarchical structure that promotes people working in silos will not work very well. If however, your strategy is based on low cost, high volume delivery then a rigid structure with tight controls may be the best design. Just make sure your organization design supports your mission, strategy and desired culture.
Size
A small organization could be paralyzed by too much specialization and rigid responsibilities. A large organization has more moving parts that generate more specific roles and complex decision making. Consequently, decision-making responsibilities are likely to be decentralized with a stricter chain of command ensuring organization alignment. In organization design, size definitely matters.
Environment
If the market environment you work in (customers, suppliers, regulators, etc.) is unpredictable or volatile, then the organization needs to be flexible enough to react to this. Similarly, if the environment requires constant innovation, then flexible structures prevail. In stable, predictable environments, rigid structures are less of an impediment.
Controls
Some activities need special controls (such as patient services in hospitals, money handling in banks and maintenance in air transport) whilst others are more efficient when there is a high degree of flexibility.
Incentives
Incentives and rewards must be aligned with the business's strategy and purpose. When these are misaligned or are not directly tied to the contribution specific parts of the organization make, there is a danger that units within the organization will become self-serving and the operation of the organization design will suffer.
The Organizational Design Process
The process of organization design can be done in numerous ways. Most often, the executive team does this work and announces it to the rest of the organization. This occurs in organizations where leaders tend to view their organization rather mechanistically.
A better option is to think of how you can take a more co-creative approach and engage more people, both leaders and employees, in providing input to the organization design. This will require them to more fully understand and integrate the organization's vision, strategy and goals. It will catalyze great conversation and a deeper understanding about how to better serve customers, reduce costs, increase innovation, leverage synergies, and generally become more effective and efficient.
You can then use these engaged people as communicators across the organization to build a critical mass of understanding about why your new organization design is so good. People tend to listen and accept messages coming from their peers more readily than they do those announced "from the top." Plus, these communicators will be able to share first-hand why certain organization design decisions were made because they were a part of it.
This co-creative approach will take longer to get your organization design solution identified, but will produce far greater speed to achieving full adoption and commitment in the workforce to operate optimally in the new design—which is, of course, the real goal. A co-creative approach will foster deeper commitment to the future and will unleash the human potential across your organization. Not a bad way to do organization design!
---
Related eBook:
The Ten Key Strategies for Leading Transformation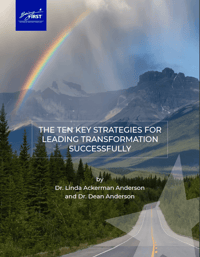 Through 40 years of observing and supporting large-scale change and transformation in Fortune 500, government, global NGOs and public service organizations, we've identified these ten Best Practice strategies for leading transformation successfully.
Please complete the form to download your eBook:
---